Fashion King is finally airing in Singapore.
The movie plot is based on the webcomic "Paeshyeonwang" that received four million hits. It is about the story of a high school boy discovering his passion for fashion and went on a makeover to win the girl of his dreams.
The movie was first release in Korea in November 2014 and had received good response. I was looking forward to catch this movie. Knowing that I love kpop, GF extended her ticket to bring me along for this movie. So happy :)
Cast: Joo Wan, Sulli, Ahn Jae-hyeon, Park Se-young, Kim Seong-oh
Director: Oh Ki-hwan
Genre: Drama, Comedy
Release Date: 12-03-2015
Running Time: 119 minutes
Language: Korean(Sub: English, Chinese)
My rating: 4/5
Synopsis:
A teenage boy transforms from a 'fashion terrorist' to a 'fashion king' in order to win the heart of the prettiest girl in school.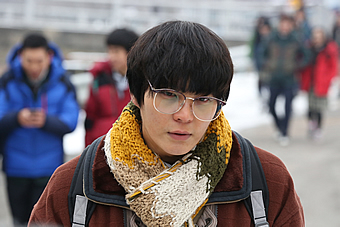 Woo Ki Myung (Joo-Won) is an ordinary high school student, so ordinary he is seen as an all-around loser and being bullied every single day. Life has been miserable until he decided to move his house and transferred to a high school.
In his new school, he has a crush on the prettiest girl in his class, Hye Jin (Park Se-young), but finds out that another guy in his school, Kim Won Ho (Ahn Jae-hyeon), is interested in her as well. Won Ho comes from a wealthy family background and the school's toughest fighter.
In order to win Hye Jin's heart, Ki Myung decides to transform himself and become the coolest, best dressed person in the world. With the help of his mentor, Nam Jung (Kim Seong-oh), Ki Myung is introduced into the world of fashion.
Meanwhile, he doesn't notice Eun-jin (Sulli), who harbors a secret crush on him.
Being ugly or ordinary always make you an easy target to be bullied in school. People make fun of you all the time because you are not fashionable and you don't look good to be mix with them. All these hurtful words could cause a great impact to the victims. Some could even went for plastic surgery because the people make the victim believe that he/she is ugly.
I'm glad that Ki Myung did not take on the negative approach. He is inspired by his mentor to undergo a transformation into a fashion king and they turned the school into their fashion runway.
The casts are all handsome and beautiful. A plus bonus on the visual.
The movie is really hilarious, we laughed from the start till the end. Towards the ending, it was touching too. Usually I can control my tears such that it only welled up in my eyes. This time round, I couldn't stop my tears from flowing down. I was touched by his perseverance and never say die attitude.
I really enjoyed watching this movie. It is entertaining and heart warming.
Another thing I learnt from the movie: Dopeness is the only weapon against the strong.