It's been a long time since I last went to cinema theatre for a movie. That's why I was so happy when GF brought me for the preview screening of "Buddy Cops".
Cast: Bosco Wong, Jin Gang, Eric Tsang, Kate Tsui, Charmaine Fong
Running Time: 102 minutes
Rating: NC16
In this movie, it starred many TVB artistes that we are all familiar with. It started off with cop Fei (Bosco Wong) messed up one of the police operations and ended up incurring a huge loss for the police force. He ended up being transferred to the slacker department where he met Johnny (King Kong), they were loggerheads at work and constantly bickering. Both of them were raised in single-parent families. Their lives further intertwined when each of their parent fell crazily in love and got married!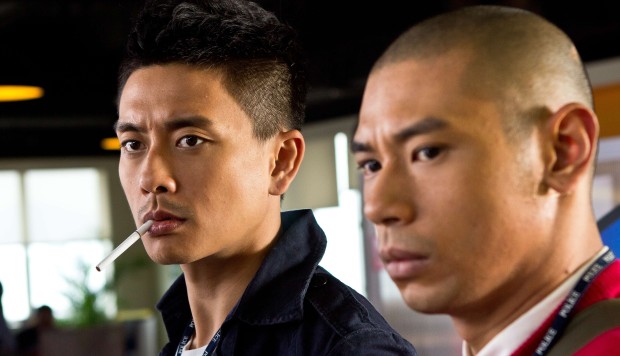 Soon, the "brothers" are assigned to investigate a murder case that leads them to a big conspiracy, where hilarious happenings await…
Other than the action scene, the movie also involved the love interest revolving the 2 male leads.
Bessie (Charmaine Fong) played the role of Fei's ex-girlfriend, whose family came from a triad background, while Kate Tsui played the love interest of King Kong.
I totally couldn't recognize Kate Tsui in the movie with her Bucktooth, nerdy spec and no makeup. I kept thinking that at the end of the movie, she will become beautiful but she didn't.
Overall, I enjoyed the comedy movie with injection of some dirty masturbation jokes and many amusing scenes. I have a great laugh that lighten up my day. If you enjoyed watching Hong Kong cop drama, you will like this. But don't expect too high from the movie, just go in and enjoy the hilarious movie.
Rating: 3/5