Ever since I came back from Bangkok, I keep having the urge to travel again.
Hence, I decided to visit Johor Bahru (JB) for a half day trip to have a sumptuous meal and movie during this long weekend.
A photo before I left my house at 2.45pm.
We headed in to JB at a slightly later timing so that I can spend some time on my assignment before enjoying my day.
We cleared the custom in JB at about 4.30pm.
From Kranji to JB, we only spent 45 minutes. If you don't really have much stuffs to do in JB, coming in at a later timing is good. Not so jammed.
We immediately went to mmCineplexes to purchase Fast & Furious 8 movie tickets for 6.15pm showtime. The movie costs RM18 per pax.
We went down to B1 to look for places for dinner.
Stopped by the fruit stall for some fruits before dinner.
I have dinner at Sushi King again. I have this the other time at KSL.
We have an early dinner before we catch the movie.
Sushi King is located at B1. There are 2 escalators leading to B1, remember to find the right one because the other one lead you to the carpark. The makan place at B1 is really a hidden gem.
We picked some of the sushi from the conveyor belt while waiting for the dishes to be served.
Tamago.
Salmon Skin Piri Piri.
I have tried before fish skin, but this is my first time trying salmon skin. It didn't taste as crispy and as good as fish skin.
California Maki which includes crabstick, cucumber and omelette roll topped with fish roe.
I love the Salmon Teriyaki the most.
The salmon is juicy and delicious, it is grilled to perfection and drizzled with sweet sauce, making every bite tasted flavourful.
The kitchen took quite a long while to serve the cook food. We were done eating and just purely waiting for our ordered food to be served. They took nearly half an hour to serve the food.
We have Soft Shell Crab Tenpura again.
We love the deep-fried soft shell crab served with tenpura gravy,
Nevertheless, we have a delicious dinner and the dinner cost was RM102.
Time checked, we still have 15 minutes left. We decided to go to Secret Recipe for a cake.
Feeling full, we ordered one slice of white chocolate cake for sharing.
With tummy filled, we were ready for the 2 hours 18 minutes movie.
In this instalment, a mysterious woman who turns out to be a cyber terrorist. She got Dom Toretto (Vin Diesel) to work for her and bring him into the world of terrorism. He turns his back on his family and betrays their trust.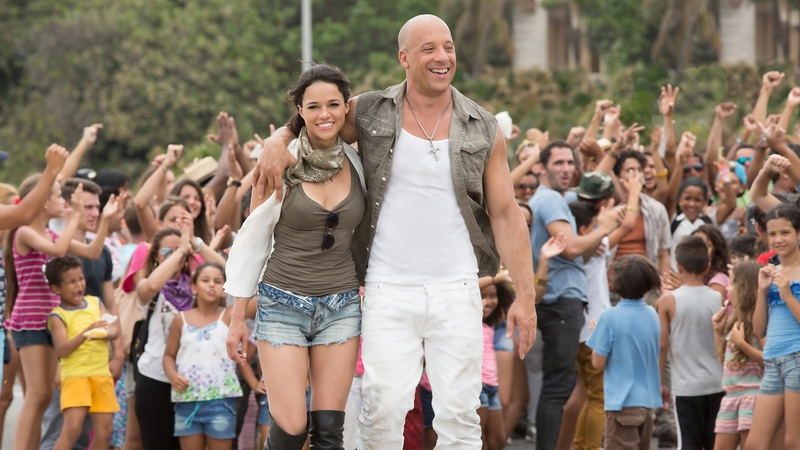 The movie started off with a action packed car racing in Cuba when Dom is in Cuba for his honeymoon trip. He has a race with the Cuban loan shark and they become friends after the race.
One can expect a lot of action packed scene from the movie. From the start to end of the movie, it will keep your eyes glued to the screen. There is a part where Cipher (Charlize Theron) controls the whole town vehicles and make them move in sync all at the same time. It is a sight that I never see before.
This is a movie where all racer expert with different skill sets come together to prevent a cyber terrorist from destroying the world.
Rating: 4/5
**
It was nearly 9pm when we finished watching the movie. We dropped by Hui Lau Shan (許留山) for dessert before coming back to Singapore.
Ordered a mango ice with coconut juice for sharing.
We have learnt my lesson, it is not a wise idea to leave at some a late timing. The custom and bus was packed with lots of people. A safe timing will be to leave before 9pm so that there is no need to worry about catching last train home.
Today is a rare occasion that I didn't get anything for myself in JB. I was purely there for eating and watching movie. There are lots of food and restaurant to eat in JB, I going to try them one by one.
Good bye JB, I will be back soon.