Director Dante Lam and Choi Siwon were in town to make an appearance for 'To The Fore' Gala Premiere in Singapore.
This is a movie that I have been wanting to watch ever since I watched the trailer because Choi Siwon and Eddie Peng are in the movie. Therefore, I was super elated when I know I won a pair of tickets to the gala premiere.
Met up with Tingwen for the movie.
Before the start of the movie, Director Dante Lam and Choi Siwon was at the gala premiere stage for promotional activities.
So happy to see Siwon again, he is one of my favourite male artist in Korea and my favourite member in Super Junior.
I was amazed by Siwon's ability to communicate with the fans in English and Mandarin through the fanmeet. The only korean word he used was annyeonghaseyo because the fans greeted him in korean. Impressive!
The casts really put in lots of efforts for the filming, they had to undergo a rigorous cycling and workout daily.
They had also travelled to many countries and cities for filming: Taiwan, Korea, Hong Kong, Shanghai and etc.
Siwon has promised that if the box office in Singapore is good, he will come back to Singapore again to pop the champagne with everyone.
Time for the movie after that.
To The Fore is Asia's first cycling- themed movie, It will take viewers to an exciting ride through adrenaline-packed cycling races mix of speed, endurance and tactics , heart-stopping crashes, that can leave one glued to the screen.
Rating: 4/5
Release date: 6/8/2015
Running time: 125 minutes
To The Fore is an action packed movie featuring cycling races, unlike the usual car racing. A sports-romance movie by Dante Lam that focuses on the friendships and love lives of four friends.
Representing Team Radiant, Ji won (Choi Siwon), Chou Ming (Eddie Peng) and Qiu Tian (Shawn Dou) entered a cycling competition.
Ji won is the sprinter of the team, known as 冲线手. As the name suggested, he is always the one who will finish the race due to his ability to accelerate high speed. Sprinter is also the one who will be standing at the award ceremony platform to receive the trophy.
Chou Ming and Qiu Tian are the two lead-outs of the team, known as 破风手. They prevent the sprinter from being attacked by others and lead out sprinter for the dash in the last few hundred meter.
Due to financial issues, team Radiant was dismissed and each of them went over to join different teams. Ji-won, Chou Ming and Qiu Tian have become sprinter in their teams and create a competition against each other.
Another part I enjoyed is the romance between Chou Ming and Wang Shiyao (Wang Luodan). Shiyao is also a cyclist from a girl team. Both of them devleoped feelings for one another and went into a relationship. Feeling frustrated due to some issues, Chou Ming went drinking and was drunk. He then have one-night stand with someone else. Shiyao parted with him upon finding out. Chou Ming did a selfless act that touched Shiyao and they were together again.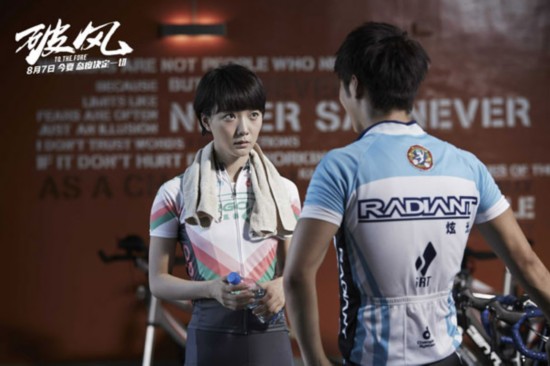 Qiu Tian was having a torch for Shiyao too.
Aww, it's a love triangle.
This is really a movie worth watching. It is not only just on cycling competition, it is about friendship, love and passion for dream.